Clay and Crochet artist based in Cincinnati, OH.

Wheel thrown and Slip casted ceramic pieces with handmade glazes.
From cutting boards to cutting blocks, Chestnut Street Market has grown from creating imaginative natural recipes to visualizing the love of the garden through handprinted textile and paper goods.
Guided by a broad palate, we fuse hand-drawn illustrations of unique produce with hand-pulled printmaking techniques to create interesting visual flavors and textures for all of our products.
Chestnut Street makes everything in small batches from our home in Cincinnati. To achieve our products' uniqueness, it may take from two to four weeks to develop by hand and deliver, making every print worth your patience.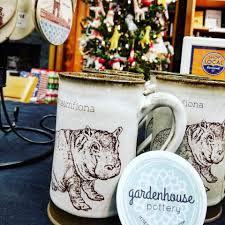 ""I have been gardening and crafting for as long as I can remember. I specialize in garden art and functional pieces made from stoneware pottery. I have also been creating garden pieces such as hypertufas, garden bricks, mushrooms and stepping stones from concrete for several years. The gardenhouse studio is located on our 18 acre hobby farm near Kings Island amusement park in Maineville, Ohio. Please contact me to organize workshops for your group or club."